Saleh Abdeslam's lawyers prepare for their client's trial in France
Comments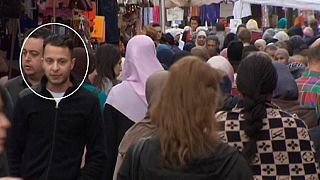 He was once Europe's most wanted fugitive, now he is in solitary confinement in a maximum security prison in the Paris region. Saleh Abdeslam the 26-year-old French national who was born in Brussels where he lived before the Paris attacks is charged in France with participation in terrorist murder and the activities of a terrorist organisation.
His main defence lawyer in Belgium told one newspaper his client is "gold dust" on the grounds he is willing to talk.
"He wanted to leave and get to France as soon as possible. That was a change of attitude, why? Because I think there is a small piece for the record here and he wants to explain in France and that is a good thing," Sven Mary told reporters.
Frank Berton, a high profile French criminal lawyer will lead the defence along with Abdeslam's Belgian lawyer. Together they spent more than two hours last week with their client in his prison cell.
"I met a boy who has fallen apart, who wants to talk and I think this is important because the court needs to know these things, the families of the victims need to know. That is his approach and it is what came out of our meeting," he revealed.
So what is it that Salah Abdeslam has to say and why is it important that he is tried in France. This, "boy" – to quote his defence lawyer led the normal life of a young man until 2011 when everything changed after he was radicalized. Will he build his defence around the his alleged role in the attacks?
It is believed he was in charge of the logistics, the one who booked the hotel and drove the attackers in their car. He then crossed Paris in the subway. Police later found an abandoned suicide belt in a rubbish bin fueling speculation it belonged to Abdeslam. Was that an act to renounce the attacks? Will the lawyers in his trial be defending the indefensible?
"Defending the indefensible, I think the way Abdeslam Salah will explain what happened in France there will need to be some reflection in order to defend him," said Sven Mary.
The four month man hunt for Salah Abdeslam ended on March 18. His Belgian lawyer described him in a newspaper interview as, " more of a follower than a leader, with the brains of an empty ash-tray". But he is the only detainee who could have valuable information on the formation of this type of terrorist cell in Europe.