Pope Francis and Ecumenical Patriarch Bartholomew, leader of the world's Orthodox Christians have met migrants at the Moria refugee camp on the Greek island of Lesbos.
Moria, a sprawling, fenced-off complex holds more than 3,000 refugees.
The visit aims at focusing the world's attention on the frontline of Europe's migrant crisis which has claimed hundreds of lives in the past year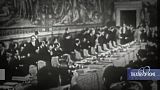 The leaders of Belgium, France, Italy, Luxembourg, the Netherlands and West Germany signing the Treaty of Rome on 25 March 1957.