Is Spain really abandoning its siestas?
Comments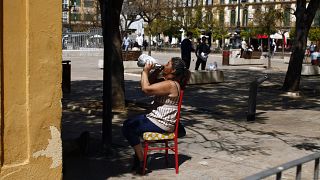 The world thought it hilarious: 'Spain scraps siestas' screamed the headlines after Spanish PM Mariano Rajoy proposed reducing working hours and changing Spain's time zone.
Franco decided in 1942 to adopt Hitler's Nazi Germany time zone
Time to wake up! Spain's prime minister wants to end the siesta – Washington Post
Spain set to end siesta in bid to join the 21st Century – The Independent on Twitter.
Spain looks to turn back the clock and end the siesta – euronews
No More Siesta? Spanish Prime Minister Wants to Nix the Nap – NBC News
Adios siesta! Is it goodbye to Spain's national nap? – The Guardian
Ha, ha, ha. Very funny. But for the Spanish the issue is more serious than "the-siesta-flamenco- paella-sangría-and-bull-fighting" stereotype and the question of working productivity and daylight hours are a matter for serious debate.
How many Spaniards take a siesta everyday?
According to a 2009 survey, 16,2%. That is around 7.4 million people.
Nearly six out of ten say they "never" snooze during the day, around one in five claim to take a daily nap and 3% have a siesta at the weekend.
El Pais' blog Verne explains that even the National Statistics service had to make clear that a three-hour siesta is nothing more than a stereotype while being interviewed by The New York Times about the issue back in 2014
Generally the few studies available reveal a decline in this habit, which is widely accepted to have health benefits.
Why is Spain in the
CET

time zone?

General Franco decided — along with Portugal — to stick to Germany's time zone during Second World War for "political affinity" reasons. After Hitler's defeat the Portuguese discreetly returned to Greenwich Meridian Time, but Franco decided to keep Spain in Central European Time.

As a result, especially after the Summer Time change, Spain is two hours in advance of its solar time. The sun rises and sets later.

Time zone alone doesn't explain Spain's timekeeping. Some suggest that early breakfast times, late lunch (14:30) and even later dinner (22:00h) are due to poverty after the Civil War, making people need to take on extra jobs to survive.

Working hours vary but a typical working day can range from 09:00 to 19:00 with a two hour lunch break. For a siesta? Only for a lucky few with somewhere to take a nap. Most people just… wait.

So most agree the Spanish day is out of whack with the rest of the world.
Rajoy quiere cambiar el huso horario y la jornada laboral. Este gráfico muestra que en España los horarios son raros https://t.co/YXiJZZldTL

— EL PAÍS (@el_pais) 2 de abril de 2016
Consequences in productivity
So in Spain, Mariano Rajoy's announcement to adapt the working day and change time zone didn't prompt headlines about siestas, but about improving quality of life, health and family life, as most agree that Spanish hours are harmful.
The Spanish have longer working days than their neighbours (and the vast majority of workers can't have a siesta) but productivity is lower than in the surrounding countries. And yes, everyone finds it annoying to spend 12/14 hours a day 'at work' to get about 8 and a half hours of jobs done effectively.
In 2013 a parliamentary commission recommended the government return to Greenwich (PDF, Spanish) to improve the balance between work and family life.
There is even a "Commission to Rationalise Working Hours" which has been asking for these changes since 2003
Now their claims are being taken seriously.
So, this is the end of siesta?
No. It might be the beginning of a more rational daily life organisation, but never the end of the siesta.
Have you tried to work in Sevilla in August between midday and 6 pm at 45ºC ? Well don't try. Have a siesta instead.