'Panama Papers': Iceland's prime minister requests dissolution of parliament
Comments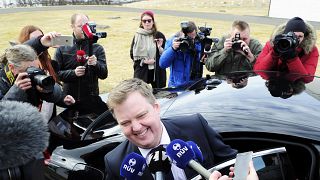 Iceland's Prime Minister, Sigmunder Gunnlaugsson has asked for parliament to be dissolved in the wake of the 'Panama Papers' scandal. However, President Olafur Ragnar Grimsson has asked for talks with the coalition partner and main opposition parties before a decision is made.
The news comes a day after the opposition filed a motion of no-confidence against the embattled prime minister.
Thousands of protesters gathered outside parliament to demonstrate against a perceived failure by Gunnlaugsson to disclose a conflict of interest over the company, Wintris.
The couple is cited in the so-called Panama Papers as having hidden millions of dollars of investments in Icelandic banks through a company registered in the British Virgin Islands.
The background
Wintris, an offshore company registered in the British Virgin Islands, was named in the 'Panama Papers' leak. Allegations that the prime minister concealed millions of dollars in investments have caused embarrassment for both the government leader and his wife, Anna Sigurlaug Palsdotti.
The pair bought the company in 2007. When Gunnlaugsson entered parliament in 2009, he failed to declare an interest in it.
Eight months after Gunnlaugsson entered parliament, Sigurlaug Palsdotti bought her husband's share of the company for one dollar. It was allegedly then used to invest millions in inherited money.
According to court records, Wintris had heavily invested in three major Icelandic banks which collapsed during the financial crisis.
Wintris was listed as a creditor to the banks and therefore could have stood to gain from their collapse.
Gunnlaugsson was involved in reaching a deal for the banks' creditors. His opponents allege his reluctance to fully repay the deposits of foreign investors following the bankruptcies amounts to a conflict of interest.
If he had fully repaid, it could have negatively affected both the Icelandic banks and the value of the company's bonds.