Italy calls on Egypt to do more to find student's killers
Comments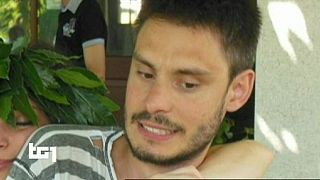 Italy has rejected Egypt's claims to have tracked down the killers of an Italian graduate student whose body was found last month.
On Thursday Egyptian authorities released pictures of Giulio Regeni's personal items they say they were discovered in an apartment linked to a gang known for robbing foreigners. The gang members are understood to have been killed in a gun-battle with police.
The 28-year-old's battered body was found on the outskirts of Cairo. Human rights groups say the signs of torture suggest he was murdered by Egyptian security forces because he had written articles attacking the government, an allegation Cairo has strenuously denied.
The case has strained ties between Cairo and Rome, and even widened rifts within Italy with opposition MPs accusing the government of not pressing the case over fears it may damage crucial economic ties between the two countries.
Our correspondent in Cairo, Mohammed Shaikhibrahim said: "It's been nearly two months since Regeni's body was found and it's only now that more details are gradually emerging from Egypt's Interior Ministry but Rome's chief prosecutor has said the evidence shared with a team of Italian investigators here is far from adequate to help identify those responsible for the student's murder."