ExoMars mission leaves Earth's orbit heading for Mars
Comments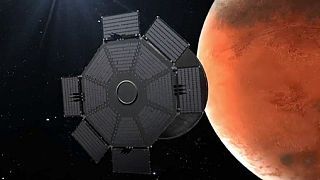 After a successful launch, the joint European-Russian mission to sniff out signs of life on Mars has left Earth's orbit and is heading for the Red Planet.
There's an incredible sense of excitement amongst the scientists here after that successful launch
The craft, part of the ExoMars programme, blasted off on a Russian Proton rocket from the Baikonur spaceport in Kazakhstan.
It's carrying a probe whose aim is to study gases that previous Mars missions have detected in the planet's atmosphere.
They'd done it! ExoMars is confirmed on its way to the red planet. Now all it has to do is find signs of life!

— Jeremy Wilks (@WilksJeremy) 14 March 2016
#ExoMars on its way to solve the Red Planet's mysteries. Full story: https://t.co/8LWNm7NzfApic.twitter.com/kmTp91vVxW

—

ESA

(@esa) 14 March 2016
Scientists want to solve the mystery of methane on Mars. Living organisms produce methane here on Earth.
If the rover detects the presence of methane on Mars, that could suggest the presence of life on the red planet.
In a few years, the ExoMars rover will return on a second mission to Mars to drill for signs of life below the surface.
"Why are we so interested in Mars? We are trying to understand how life originated in our solar system," Pascale Ehrenfreund, chair of German space agency DLR's executive board, said at the European Space Agency's launch event.
"I'm sure that in 20 or 30 years the moment will come when humans will go to the planet," said Thomas Reiter, director of Human Spaceflight and Robotic Exploration at the ESA.
Euronews is following the team from the European Space Agency and Roscosmos as they journey to Mars.
Our correspondent Jeremy Wilks reported from Kazakhstan: "There's an incredible sense of excitement amongst the scientists here after that successful launch. For many of them, this is the first time that they've built an instrument and sent it to Mars. Of course, there are many hurdles to overcome: the instruments have to prove that they're working now they're in space, and they've got a seven-month journey to the Red Planet before the science can really begin, and they can really start to look for signs of life."
The best thing about the #ExoMars launch for me was the noise of the rocket rumbling across the steppe from 4km away #spaceblog

— Jeremy Wilks (@WilksJeremy) 14 March 2016
Suspense and….success ESA_ExoMars</a> <a href="https://twitter.com/ASI_spazio">ASI_spazioESA_Italia</a> <a href="https://twitter.com/Thales_Alenia_S">Thales_Alenia_Sspacegovuk</a> <a href="https://twitter.com/roscosmos">roscosmosFNM_Space</a> <a href="https://t.co/WhS3hnQaX7">pic.twitter.com/WhS3hnQaX7</a></p>&mdash; andrea zanini (andreazanini65) 14 March 2016