Merkel defends Germany's refugee policy on eve of 'Super Sunday' vote
Comments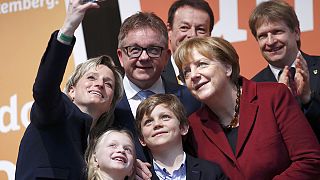 The day before Germany's "Super Sunday" elections that are expected to severely test Angela Merkel's popularity, the chancellor launched a passionate defence of her migrant policy.
The issue is pertinent in the three regions where the vote is taking place.
Merkel's Christian Democrats have been losing support over her decision to open Germany's borders to refugees – and to keep them open.
"If someone really is fleeing from war, terror, ISIL and hardship he must get protection among us," she told a rally of her CDU party in Baden-Württemberg, one of the three states voting on Sunday.
But she added a word of warning to others: "So it's all the more important that we succeed in sending back those who are not coming from war and hardship but for economic reasons. That we tell them: you have to leave our country again."
Applause from her supporters, but many in Germany wonder how the country can cope with a crisis that saw over a million migrants arrive last year.
The anti-migrant Alternative for Germany (AfD) party is tipped to benefit in Sunday's poll.
Saturday saw demonstrations for and against refugees in Berlin.
An estimated 2,000 far-right demonstrators marched in the capital calling on Merkel to resign.
Elsewhere anti-fascist protesters chanted "Nazis out". Police kept the rival groups apart.