Colombia to miss March 23 peace deadline
Comments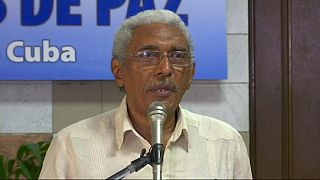 It's official: Colombia will miss a deadline for a peace accord between the government and leftist FARC rebels.
President Juan Manuel Santos said on Wednesday (March 9) he would not sign a "bad deal" just to meet the self-imposed deadline of March 23rd. On Thursday, the rebels agreed they needed more time to put an end to five decades of conflict.
FARC peace negotiator Joaquin Gomez said: "It seems to us that President Santos has shown objectivity, and we agree with what he said, we think that yes, after the 23rd, there could be an agreement."
The government and the FARChave been negotiating since late 2012 to end a messy conflict that has killed more than 220,000 people and displaced millions.
Both sides have found common ground on many key issues in recent months, including on land reform and drug trafficking, but they still have to hammer out a plan for disarming the rebels.