Maria 'Drugapova': game, set and meldonium
Comments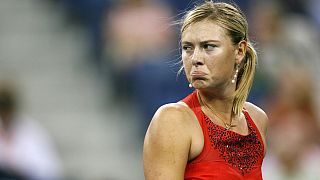 Maria Sharapova's staged-managed announcement that she had tested positive for the drug meldonium sent shockwaves through the sporting world and begged the question:
What is meldonium?
Sharapova claims the drug she's been caught taking prevents diabetes. Assume she avoids her own Sugarpova sweets? pic.twitter.com/6Ug4bG93gK

— Martin Williamson (@mogodonman) March 8, 2016
MELDONIUM
Meldonium also known as mildronate is produced in Latvia by the pharmaceutical company Grindeks.
La inclusión de meldonium es una de las novedades de la Lista de sustancias prohibidas 2016 https://t.co/3RV8ecI3dypic.twitter.com/PSdODxyQVe

—

AEPSAD

(@AEPSAD) February 24, 2016
MEDICAL
USE
It is used in the treatment of angina and myocardial infarction and may improve the quality of life, exercise capacity and the peripheral circulation of patients with chronic heart failure.
A clinical trial in February 2010 found the exercise potential of stable angina patients was much-improved.
The drug is only available in the Baltic states and Eastern Europe and can be bought over the counter in Russia.
Meldonium is not approved by the Food and Drug Administration in the United States and European Medicines Agency.
ORIGINS
The drug was developed by the Latvian Institute of Organic Synthesis as a non-antibiotic growth promoter for poultry and livestock. It was granted a US patent for this purpose in 1984, but is no longer available for use in agriculture.
The Latvian Institute of Organic Synthesis is state of the art, cutting edge and innovative https://t.co/APWSfgRStbpic.twitter.com/QcJEVeoO7y

— IntlInnovation (@IntlInnovation) December 16, 2015
The World Anti-Doping Agency (
WADA

)

In 2015 WADA placed meldonium on the list of drugs to be monitored and a study in the journal Drug Testing and Analysis argued that meldonium "demonstrates an increase in endurance performance of athletes, improved rehabilitation after exercise, protection against stress, and enhanced activations of central nervous system functions."

Speaking to the British publication 'The Guardian' Mario Thevis, a German anti-doping researcher who helped develop the test for the substance, said "There is the potential of the substance to enhance performance and it has been described as a means to facilitate recovery and to enhance physical as well as mental workload capabilities."

WADA and sports administrators announced in September 2015 that the drug was to be placed on the banned list and classed as an S4 substance under hormone and metabolic regulators.
World Anti-Doping Agency's (Wada) To Present Findings To Kenya https://t.co/TuFH74TQhk via globalsportsgh</a> <a href="https://t.co/xdarR8DMAk">pic.twitter.com/xdarR8DMAk</a></p>&mdash; Globalsportsgh.com (GlobalSportsgh) January 10, 2016
ATHLETES
AND
MELDONIUM
As well as tennis star Sharapova a number of elite athletes have tested positive for meldonium since January 1 including the Russian ice dancer Ekaterina Bobrova, Russian speed skater Semion Elistratov and Russian weightlifter Alexei Lovchev. Athletes from Ukraine, Uzbekistan, Sweden, Ethiopia and Turkey have also produced positive results.
Ekaterina Bobrova https://t.co/Xol3ngQmpNpic.twitter.com/z5bgA2hUcO

— Surto Olímpico (@SurtoOlimpico) March 10, 2016
Relembrando que Semion Elistratov https://t.co/EXatTfCwA7pic.twitter.com/AtGuHguof0

— Surto Olímpico (@SurtoOlimpico) March 10, 2016
El ruso Alexéi Lovchev y 3 levantadores más levantadores de pesas son suspendidos después de dar positivo en doping pic.twitter.com/COqWVs8kq0

—

TDN

(@tdn_twit) December 26, 2015
The Russian sports minister, Vitaly Mutko, told the Tass news agency that he expects more Russian athletes to test positive:"It is clear that more upheaval related to this substance awaits us."
This latest doping scandal is a nightmare for sports administrators and politicians as the 2016 Rio Olympics loom.