Migrants blocked at the Greek-Macedonian border protest at the closing of the Balkans route that leads to Europe.
Macedonian officials reportedly completely closed the border crossing on Wednesday and Slovenia, Croatia and Serbia imposed tough new restrictions on how many migrants would be allowed through.
There is now a bottleneck of more than 15,000 migrants along the Greek-Macedonian border.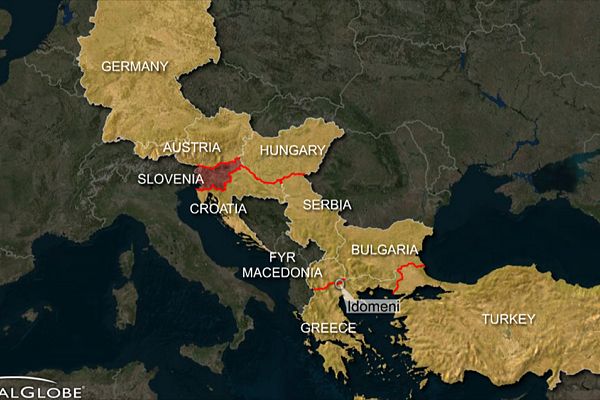 One migrant, Nidal from Syria, told reporters: "I'm sick of this, so tired and bored of this, just waiting for nothing.
"I wait and wait and wait, and then there is nothing. I know that there is nothing at the end but I am waiting."
There is rising concern about the plight of the migrants at, including hundreds of children, in cold and wet conditions.
Rain at Idomeni border camp making life miserable for 13K trapped asylum seekers & migrants as Balkan borders close. pic.twitter.com/qcivbe5GUQ

— Peter Bouckaert (@bouckap) March 9, 2016
Christian Reynders from Doctors Without Borders said: "We fear that the number of children suffering from these conditions, these particular conditions, the humidity, the smoke inhalation, it will cause them severe damage to their lungs."
And still the migrants keep arriving.
This despite a controversial draft agreement between the EU and Turkey this week aimed at stemming the flow of migrants attempting to reach Europe.
Has Brussels dropped idea of Turkey joining EU? Bloc's leaders 'turning a blind eye' to Turkey's press crackdown https://t.co/oG8SsLGc8I

— Seamus Kearney (@seamuskearney_) March 9, 2016
Migrants stuck in Greek makeshift camp vow to stay put despite EU-Turkey deal https://t.co/1JKyBZSR5X

— Seamus Kearney (@seamuskearney_) March 8, 2016
EU leaders torn over needing Turkish help with migration crisis https://t.co/XcRP6Fw9ic

— Seamus Kearney (@seamuskearney_) March 7, 2016
Meet Noor, shes 24 and from #Syria. Back home she was a concert pianist. Here in #idomeni she's stuck in the mud. pic.twitter.com/MV1JluglL4

—

MSF

Sea (@MSF_Sea) March 9, 2016
It took this boy's family 2 weeks to get to the front of the line to cross #Idomeni – #Gevgelija UNICEFMK</a> <a href="https://t.co/UK6yNTismc">pic.twitter.com/UK6yNTismc</a></p>&mdash; UNICEF (UNICEF) March 8, 2016
Some 1,000 people arrive in #Idomeni daily. HRC_SAMARITES</a> continue to provide healthcare & relief. <a href="https://twitter.com/hashtag/ProtectHumanity?src=hash">#ProtectHumanity</a> <a href="https://t.co/mmM2WoMB1F">pic.twitter.com/mmM2WoMB1F</a></p>&mdash; IFRC (Federation) March 8, 2016
Syrian women, 9-months pregnant, slept on wet ground yest. Only here in search of safety for kids #Idomeni #IWD pic.twitter.com/tghdTN2gst

— Fotis Filippou (@Fotis_Filippou) March 8, 2016
A child is surrounded by razor-topped wire at the Greek-Macedonian border #Idomenihttps://t.co/72IeSgC10c pic.twitter.com/o61r79J5b5

— Brendan McDonald (@7piliers) March 8, 2016
All views
Get a different perspective
Every story can be told in many ways: see the perspectives from Euronews journalists in our other language teams.