US says it takes North Korea nuclear threats seriously
Comments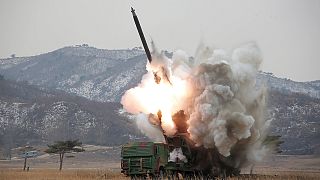 The United States says it takes North Korea's threats to use nuclear weapons seriously.
Washington has urged Pyongyang to halt provocations, including the testing of nuclear devices and long-range rockets.
And State Department spokesman John Kirby confirmed US talks with South Korea on deploying the American THAAD missile defence system to the peninsula.
"The working group, the ROK and US joint working group consultations on a possible THAAD deployment to US Forces Korea has begun," Kirby told reporters.
"They met for the first time on the fourth of March and the working group is headed by senior officials, both from US Forces Korea and the South Korean Ministry of National Defence."
But for North Korea, the largest-ever military drills by the South and US, which are also underway, are the real provocation.
Kim Jong Un has ordered his country to be ready to use nuclear weapons faced with what he sees as growing threats from his enemies.