Pakistani Taliban faction claims 'revenge' suicide bombing
Comments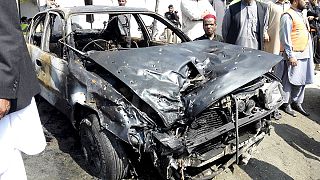 Pakistani militants said a suicide bombing that killed a dozen people on Monday was revenge for the hanging of a man convicted of killing a prominent liberal politician who had called for reform of blasphemy laws.
Some 30 people were wounded in the blast that rocked the town of Shabqadar, about 150 km northwest of the capital Islamabad. Reuters reports two children and two police officers were among those killed.
Pakistani militants say blast at court in Shabqadar that kills 10 was revenge https://t.co/KpGvPCDFI3

— Reuters India (@ReutersIndia) March 7, 2016
Police said the bomber was trying to enter a court house and blew himself up when guards stopped him. He was said to be carrying eight kilograms of explosives.
The Pakistani Taliban's Jamaat-ur-Ahrar faction claimed responsibility for the attack, saying it was revenge for the hanging of Mumtaz Qadri.
Qadri was executed last week for killing Salman Taseer, the then governor of Punjab province, after he had called for reform of blasphemy laws that mandate death for insulting Islam or its prophet.