Talks in Paris fail to make progress on implementing a peace deal in eastern Ukraine
Comments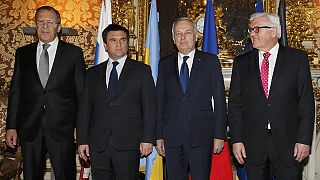 Talks in Paris aimed at getting the fragile Minsk peace agreement back on track in eastern Ukraine failed to make progress on Thursday ahead of a planned election in the rebel-held Donbass region.
Germany and France, the two main countries behind the accord, had hoped that after months of measured pressure on Russia and Ukraine that a breakthrough could finally be achieved but after four hours of negotiations it was clear there were still some major hurdles to overcome.
Pavlo Klimkin, Ukraine's Foreign Minister had this to say to reporters waiting outside the talks:
"The point I made specially is the necessity of providing security in the run-up to the future elections. Security first. Without security we can't deliver on anything further. And in that sense we need a bold and robust international component on the ground."
There's been a increasing number of ceasefire violations in the east, where Ukrainian government forces and pro-Russian rebels are involved in a tense stand-off, particularly in the Donbass region.
Both sides have made commitments to withdraw heavy artillery back from the front line and give full access to European peace monitors but progress has been slow.