Astronaut Scott Kelly returns to Earth after longest US space mission
Comments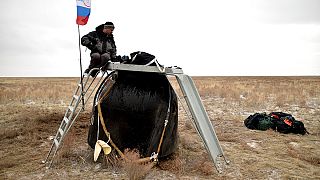 An American astronaut and Russian cosmonaut have returned to Earth after an unprecedented period of almost a year in space for NASA.
The time spent by Scott Kelly, 52, and Mikhail Kornienko, 55, on the International Space Station was intended to pave the way for human travel to Mars.
A Soyuz capsule carrying the pair and a second Russian cosmonaut made a parachute landing in Kazakhstan three and a half hours after they left the ISS.
Kelly's 340 day stint is the longest US space mission on record.
He and Kornienko have been the subjects of dozens of medical experiments and science studies trying to learn more about the effects of space and weightlessness on the human body.
Welcome home StationCDRKelly</a>! Your <a href="https://twitter.com/hashtag/YearInSpace?src=hash">#YearInSpace</a> helps ensure humans are "go" for our <a href="https://twitter.com/hashtag/JourneyToMars?src=hash">#JourneyToMars</a><a href="https://t.co/5TkCH23Hwy">https://t.co/5TkCH23Hwy</a></p>&mdash; NASA (NASA) March 2, 2016
The third man, cosmonaut Sergey Volkov, has been in space for nearly six months.
The longest missions in space, lasting 438 days, were carried out by four Russian cosmonauts in the mid-1990s.
Before landing, Kelly said one of the hardest aspects of being in space was the physical isolation.
Kelly and his identical twin brother Mark, a former NASA astronaut, are also taking part in genetic studies to see how individuals respond to different conditions.
The research aims to help the US space agency and its partners develop plans for eventual human missions to Mars lasting at least two years.
Two thumbs up from StationCDRKelly</a> after landing from his <a href="https://twitter.com/hashtag/YearInSpace?src=hash">#YearInSpace</a>. More photos here: <a href="https://t.co/HTfkGxYy75">https://t.co/HTfkGxYy75</a> <a href="https://t.co/Z5gre1la0G">pic.twitter.com/Z5gre1la0G</a></p>&mdash; NASA (NASA) March 2, 2016