Trump and Clinton 'confident ' going into Super Tuesday
Comments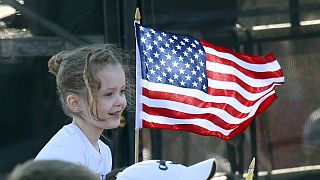 Donald Trump may be looking stronger than ever as he goes into Super Tuesday but his popularity among Republicans continues to be dogged by controversy.
His rally in Virgina was disrupted by protests against his failure to denounce the endorsement of a Ku Klux Klan leader, but once again he turned it to his own advantage vowing to unite the country.
"When you think of it, hey, honestly. Look. We are all together. Believe it or not, we are going to unify this country. This is not a unified country," he said, " We are going to bring this country together."
On the Democratic side Hillary Clinton who is topping her rival Bernie Sanders by a comfortable 17 percentage points has been at pains to present herself as the voice of reason… in contrast to the mudslinging among Republicans.
"What we can't let happen is the scapegoating, the blaming, the finger pointing that is going on on the Republican side, which not only sets a bad example, which as the congressman said, at least my mother would have said stop it. But it really undermines our fabric as a nation," Clinton told supporters at a rally on the eve of the next group of primaries.
Super Tuesday is so-called as 15 states or territories vote on the same day to chose a presidential nominee. At stake are 595 delegates for the Republicans and 865 for the Democrats. It's often seen as a sink or swim moment for candidates, particularly this time round among Republicans who still have five people in the race.
Other candidates
Marco Rubio
Ted Cruz
Ben Carson
John Kasich