At least 40 dead
30 wounded
The majority are civilians
6000 killed in conflict so far – UN
The news
FOOTAGE:
Aftermath Of #Saudi-Led Coalition Airstrikes On #Khlqa Market In East #Sanaa, #Yemen. #TerrorMonitor pic.twitter.com/wDTI7Rg87G

— Terrormonitor.org (@Terror_Monitor) February 28, 2016
Rebel forces in Yemen have accused a Saudi-led coalition of targeting a market near the capital, Sanaa.
At least 40 people died in the attack. Dozens have been injured.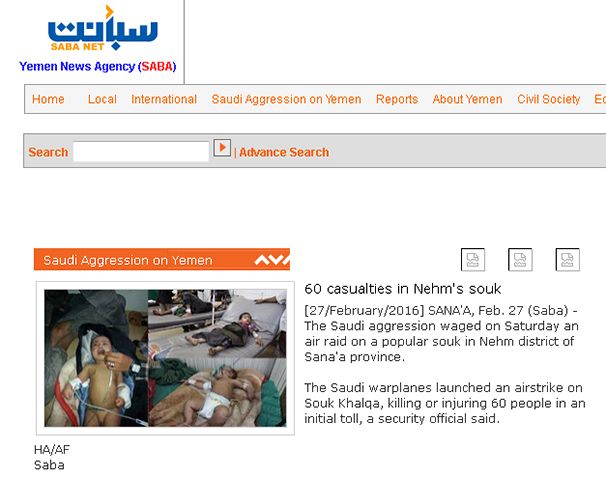 Iranian-allied Houthi rebels say military jets from the opposing Arab coalition hit a market in Sanaa province, north-east of the capital.
Houthi rebel forces say coalition military jets launched missiles which hit the busy market.
There has been no comment so far from the coalition.
The context
Rebels captured Sanaa in September 2014
Hadi government forced into exile
Coalition air strikes began in March 2015
The Saudi-led alliance is fighting the shi'ite Houthis, as well as forces loyal to former president Ali Abdullah Saleh.
They want to drive the rebels back and restore the internationally-recognised government of President Abd-Rabbu Mansour Hadi.
The conflict began after Houthi rebels advanced on the southern port of Aden, where Hadi was based.
The Houthis and Saleh accuse the coalition of launching a war of aggression.
Why is Saudi Arabia involved?
Saudi Arabia sees the Houthis as a proxy for Iran, its main regional adversary.
How many have been killed in the fighting?
The UN says nearly 6,000 people have died as a result of the conflict so far.
In addition, hundreds of thousands have been displaced.
In pictures
Air strike on Yemen market kills 30 rebels, civilians: witnesses https://t.co/HMHmChPqAX pic.twitter.com/JgmmKNnJ0T

—

AFP

news agency (@AFP) February 27, 2016
At least 30 people killed in #Saudi coalition airstrike on market near #Yemen capital #Sanaa https://t.co/HQC21nEYxx pic.twitter.com/qoGL7YNWPI

— Donatella Rovera (@DRovera) February 28, 2016
Saudi-led coalition bombs civilian market in Yemen, at least 40 dead and 30 wounded https://t.co/3d7mI4g73k pic.twitter.com/KODFLwtV5G

— Anonymous Operations (@AnonOpsSE) February 27, 2016
All views
Get a different perspective
Every story can be told in many ways: see the perspectives from Euronews journalists in our other language teams.