Cheaper fuel helps Air France-KLM return to profit for 2015
Comments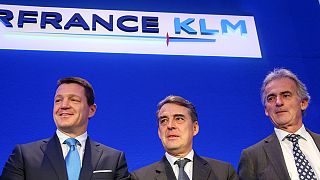 Air France-KLM's shares took off on Thursday after the Franco-Dutch airline said it had returned to profit last year.
The factors included lower fuel bills and increased numbers of passengers.
Its operating profit was 816 million euros compared with a loss of 129 million euros in 2014.
But the carrier cautioned pressure on ticket prices from increased competition would erode the benefits of cheaper fuel this year.
It is cutting labour costs and restructuring its network to better compete with deep-pocketed Gulf airlines and fast-growing European low-cost carriers.
Air France-KLM also said it lowered its net debt to 4.3 billion euros at the end of December from 5.4 billion a year earlier and pledged a "further significant reduction" this year.
The news made the company's stock the best performing on the French stock exchange on Thursday. The share price rose 10.66 percent.
On Wednesday officials at two of Air France's unions said it will announce next week a plan to cut 1,400 jobs through voluntary redundancies, mostly of ground staff.