Stars come out for 'Genius' in Berlin
Comments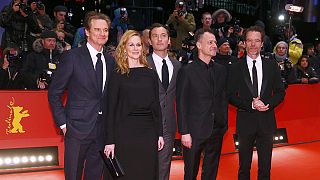 The stars shone in Berlin for the premier of 'Genius', including Colin Firth, Jude Law and Laura Linney
It is about publisher Max Perkins and his relationship with author Thomas Wolfe, but even so it is about book publishing… so what was the attraction for actor Colin Firth who plays Perkins.
"To see the beauty of the creative process (of book making), and also to play a man in an era where we all want to broadcast ourself, this is a man who listens and facilitated other people," Firth told euronews.
For Michael Grandage, a celebrated stage director making his first film, there were other issues.
"The main challenge was to getting to know the whole technical side before I started. I mean the one, the only thing I felt confident about was the relationship with actors because I had that all my life," Grandage explained.
Actress Laura Linney was asked by euronews why in a world of videos and computers did she think the film's subject was relevant today with fewer people reading or even knowing about the subject.
"Oh I think the two of us probably know something about it, but I think culturally it's certainly not in vogue now to spend a lot of time reading which is a shame."
The film focuses on book editor Max Perkins' greatest professional challenge of working with the US American novelist Thomas Wolfe, who was known for his lack of artistic self-discipline.
Reporter Wolfgang Spindler says: "It's a movie with excellent acting but its unlikely to snap up a Golden Bear. Here at the Berlin Film Festival it is unusual for so-called mainstream movies to take home a trophy."
What's being said about 'Genius'
Berlin Film Review: Colin Firth in 'Genius' https://t.co/jC5hp69oRu

— Variety (@Variety) February 16, 2016
Reactions from Berlin on "GENIUS" are killing me. amiresque</a> hates it *sniffle* <a href="https://t.co/rGPdUmx7O9">https://t.co/rGPdUmx7O9</a></p>&mdash; Nathaniel Rogers (nathanielr) February 17, 2016