Egypt: 5 years after the fall of Hosni Mubarak
Comments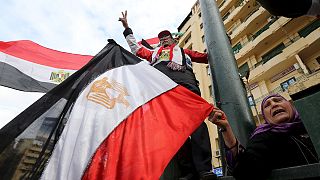 Five years after the fall of Hosni Mubarak the fervour has gone, the hope of change has given way to a sense of resignation and disillusionment.
Activists and those on the streets say not much has changed since the "Rais" was toppled. On the contrary, believe many the situation seems to be getting worse.
"I took part at the 25th revolution, demanding freedom, social justice and a better life with dignity, but after five years since the fall of Mubarak, the situation is no different, perhaps it's worse," opined Al-haj Abdul Hai, a street trader.
The anniversary of the revolution and the day Mubarak flew out of the lives of Egyptians has been an occasion for political leaders, activists and journalists to recount their memories on those events and to debate on the present situation.
"We are currently witnessesing a counter revolution, which has as consequences the violation of the human rights of the Egyptian citizens, worse than the Mubarak period. The military regime is now restricting, for example media freedom.
'The positive thing is that the feeling of a strong affiliation to their country has returned to many Egyptians and millions of them have become interested in public affairs," said Jamal Eid, founder of the Arabic Network for Human Rights.
Hosni Mubarak fell, his regime did not. For in many people's opinion Egypt is now facing a new guard from the old regime, and President Abdel Fattah el-Sisi has paved the way to follow in Mubarak's path. That's the opinion of Mamdouh Hamza a political activist.
"Mubarak's regime is still there what has changed is the head only. Now it is even worse, but Egyptian people have really changed. Don't think that the silence of the people these days mean they accept the situation," he said.
But to put a democracy in place is not a simple process and to get democratic changes in the country will take time that's how one man sees it as he explained to euronews.
"The army is trying to interfere in everything to restore security once again, to encourage investment, to bring tourism back and develop the country again but this mission needs time."