Former soldier stoned to death in Haiti clashes
Comments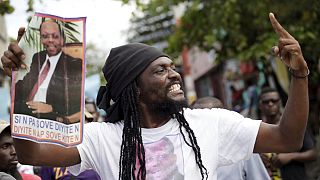 There have been dramatic scenes on the streets of the Haitian capital, with anti-government protesters reportedly stoning an unarmed man to death.
It came as around 100 former soldiers and some younger supporters paraded through the streets of Port au Prince. Such fighters toppled former President Jean-Bertrand Aristide in a 2004 coup.
Some of the protesters hurled rocks and a few of the ex-fighters fired weapons.
The latest violence comes just before President Michel Martelly is due to leave office.
Squabbling politicians have failed to organise an interim government. A run-off election to choose his replacement was scrapped last month amid violence and fraud allegations.
The crisis has reopened old divisions in Haitian society, with mainly poor opposition protesters calling for the leftist Aristide to be brought back as an interim leader and the former fighters appearing in support of Martelly's camp.
The Caribbean nation, the poorest in the Western Hemisphere, has been trying since the 1980s to build a stable democracy in the wake of the decades-long rule of the Duvalier family.
Aristide disbanded the army in 1995 in an attempt to end military dominance over Haitian politics stretching back to independence two centuries earlier.
Martelly last year energised former fighters by taking steps to revive the army.