Ban Ki Moon dismisses Netanyahu's "bolstering terrorism" accusation
Comments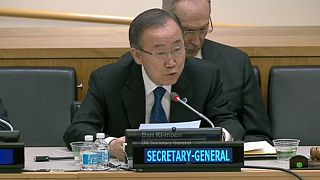 The UN Secretary-General Ban Ki Moon has not taken his tongue-lashing from Israel's leader Bejamin Netanyahu lying down.
Netanyahu said Ban's statement on Tuesday deploring the continued expansion of Israeli settlements on occupied Palestinian territory would "only bolster terrorism".
"Let me be clear, nothing excuses terror. Nothing justifies the targeting of innocent people. I condemn all such acts categorically. If we hope to see an end to this violence, security measures will not be enough. We must address the underlying frustration and failure to achieve a political solution," said Ban Ki Moon on Thursday.
Netanyahu went further, saying the UN had "long ago lost its neutrality and moral power".
The government has just approved the building of 150 new homes near Jericho on fertile agricultural land currently worked by Palestinian farmers. It is the latest in a succession of building projects on land international law says belongs to the Palestinians. Each new settlement makes any future Palestinian state a little less unitary and smaller, and raises tension further.