Cologne sees reprisal attacks after New Years Eve assaults
Comments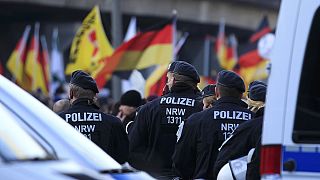 Two Pakistanis and a Syrian man were injured in reprisal attacks in the German city of Cologne, which was the scene of New Year's Eve attacks on women.
Local newspaper Express claimed the attackers were members of rocker and hooligan gangs.
A regional parliamentary commission in the state of North-Rhine Westphalia, is poised to question police and others about the events on New Year's Eve.
Authorities say the events of that night led to more than six hundred complaints, ranging from theft to sexual assault.
While Germany's state interior minister says the Cologne police made serious mistakes in handling the situation.
The violence has led to a vigorous debate about the country's immigration policy and to demonstrations by women's rights group and the anti-Islam political movement PEGIDA, whose weekend march was broken up by the police.