Cologne: Police break up anti-immigration march
Comments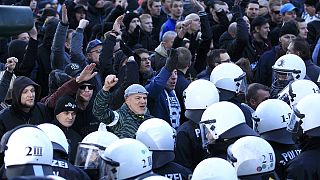 Riot police in the German city of Cologne broke up a largely right-wing crowd protesting against the country's so-called open door migration policy.
Mass sexual assaults in the city on New Year's Eve have been blamed largely on foreigners.
One banner read: "Merkel is responsible." Another, "Rapeugees not welcome."
"I am shaken by the events on New Year's Eve, but it is not only about New Year's Eve. It's been going on for a few months, or probably a bit longer here in Germany," said pensioner Helmut Erner. "I'm just concerned and worried. To me, this doesn't feel like my Germany."
A separate crowd rallied for women's rights.
"I am here today, because of course we are all very sad about what happened here on New Year's Eve," said Seyda, a woman from Cologne. "But what makes us even sadder is that hooligans and people from the neo-Nazi scene are using this for their own purposes, and presenting themselves as defenders of women's rights."
German Chancellor Angela Merkel has hardened her stance. She is promising tighter controls, expulsion for foreign criminals and a reduction in migrant numbers over the longer term in Germany.