New Year's Eve attacks on women in Cologne stun Germany
Comments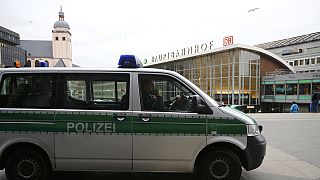 The news of what happened in the city of Cologne on New Year's Eve has electrified Germany and sent shockwaves through society after police said around 1,000 drunken young men went a rampage of robbery and sexual violence against women.
Police say the men appeared to be organised, and they had received 90 complaints of theft or sexual harassment in and around the train station and cathedral, packed on the night with thousands of revellers.
"I was touched from behind my back. And I was touched under my skirt and my buttocks were touched. I tried to defend myself, swinging my arm backwards and I almost fell down the stairs. There were so many people there, you couldn't do anything," said alleged assault victim Evelin Malcherczyk.
One woman said she was raped. Cologne police say they are familiar with a group that steals around the station, and with pickpockets who work the crowds. But New Year's Eve was different.
"What we know is that offences took place and were perpetrated out of a group of men aged 18 to 35 who looked as though they were of Arab or North African origin," said Cologne police chief Wolfgang Albers.
That was seized on far away in America, where Donald Trump blamed migrants for the outrage, before any statement from German police.
"During these investigations it will become clear which circle of perpetrators is involved. Making this an issue through over-simplifications, and connecting it to the issue of refugees is nothing more than misuse of the debate. Now it is about determining the facts and drawing the necessary conclusions," warned Justice Minister Heiko Maas.
Witness claimed they saw groups attacking women, some of them insisting the men were foreign looking, but Cologne's Mayor said there was no reason to believe they were refugees.
There are fears Cologne's five-day carnival next month could provide another opportunity for similar attacks to take place.