It should be a time of celebration. But widespread flooding in northern England has turned Christmas into a period of crisis for many, with streets transformed into rivers and homes destroyed. Despite the damage, however, stoicism and good humour have prevailed.
Johnny Depp lookalike avoids the depths
A man dressed as Captain Jack Sparrow from Pirates of the Caribbean outside his flood-hit house in York #floods AFP</a> <a href="https://t.co/rOOYiYkSgJ">pic.twitter.com/rOOYiYkSgJ</a></p>&mdash; AFP London (afplondon) 27 Décembre 2015
British humour has helped the people of Yorkshire, Lancashire and Cumbria cope with this crisis but the torrents of water pouring into towns and cities have caused vast damage.
200-year-old pub is washed away in Summerseat in Greater Manchester due to the collapse of the River Irwell
Rushing floodwaters led to the rupture and explosion of a gas main in the Greater Manchester town of Radcliffe, on December 26, after a footbridge collapsed
The side of a house collapses under the weight of the water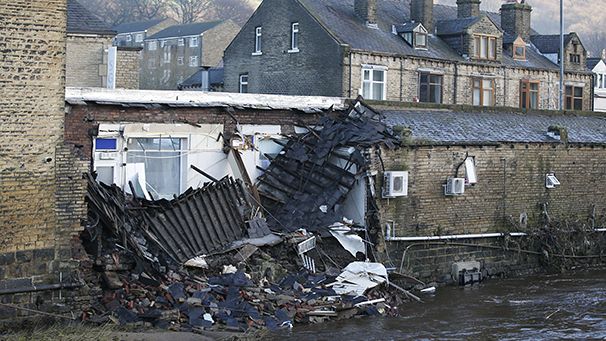 Drone footage: Cumbria Dec 7
Army deployed as river bursts its banks
Ilkley – before and after
Floods cut off West Yorkshire Town of Ilkley
Train service may be delayed in Ilkley
Why trains haven't run Ilkley-Leeds today. Taken Kirkstall by Carl Milner Sun. <a href="https://twitter.com/itvcalendar">itvcalendar RAIL</a> <a href="https://twitter.com/northernrailorg">northernrailorg pic.twitter.com/Lfbct1HyFW

— Jon Mitchell (@JonMitchellITV) December 27, 2015
River Aire, which flows through Leeds, has incredibly high levels
River Aire still raging through #Leeds Thankfully receding though! #flooding pic.twitter.com/tSgOSlXAqB

— Nicky Busby (Yorkshireimages) <a href="https://twitter.com/Yorkshireimages/status/681123047730970624">December 27, 2015</a></blockquote> <script async src="//platform.twitter.com/widgets.js" charset="utf-8"></script> The River Aire looking dangerously powerful <blockquote class="twitter-video" lang="en"><p lang="en" dir="ltr">Granary Wharf <a href="https://twitter.com/hashtag/Leeds?src=hash">#Leeds</a> <a href="https://twitter.com/hashtag/flooding?src=hash">#flooding</a> <a href="https://twitter.com/BBCLeeds">BBCLeeds Never seen the Aire look so fierce! pic.twitter.com/Hjio9nxtzN— Nicky Busby (@Yorkshireimages) December 27, 2015
The cleanup begins in Leeds
The clean up won't be something to look forward to! #TheCalls #Leeds BBCLeeds</a> <a href="https://twitter.com/BBCLookNorth">BBCLookNorth #flooding pic.twitter.com/YTfhd1wO7k

— Nicky Busby (@Yorkshireimages) December 27, 2015
Manchester City Centre
River #Irwell very full in #Manchester city centre – near thelowryhotel</a> <a href="https://twitter.com/hashtag/flooding?src=hash">#flooding</a> <a href="https://twitter.com/hashtag/salford?src=hash">#salford</a> <a href="https://t.co/92HbRuNgVz">pic.twitter.com/92HbRuNgVz</a></p>&mdash; Kathryn Fox (LGBTFox) December 26, 2015
Appleby inundated by new floods in Cumbria
Waters nearly completely submerge cars in York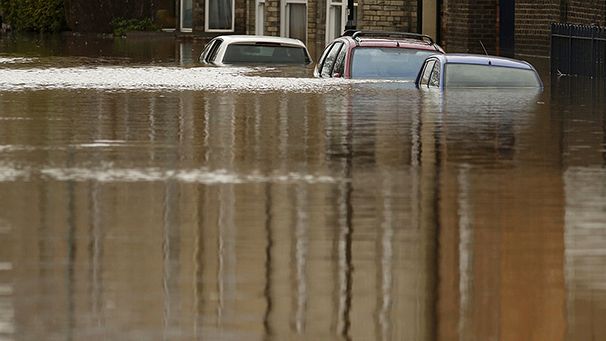 The rescue services come to the aid of a flood victim in Naburn near York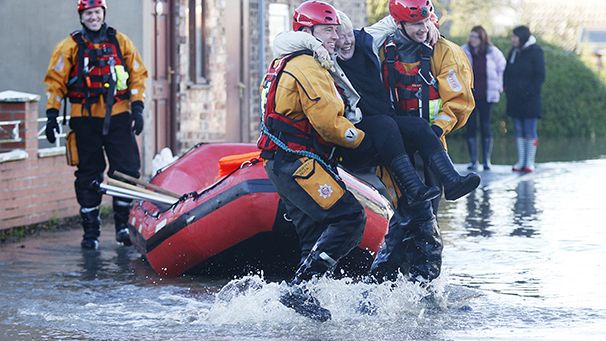 Some people are keeping up their sense of humour
A great message on the dentist window #yorkfloods #tadcaster TheWeatherNetUK</a> <a href="https://twitter.com/StormHour">StormHour #weather Welcome2Yorks</a> <a href="https://t.co/5w2Xwobfet">pic.twitter.com/5w2Xwobfet</a></p>&mdash; owen humphreys (owenhumphreys1) 28 Décembre 2015
You can flood our homes but not our sense of humour 💪🏼

#Yorkshire pic.twitter.com/vmPi25zmBw

— Yorkshire Problems (@yorkshireprobs) December 27, 2015