Ukraine retaliates to end free trade with Russia with own embargo
Comments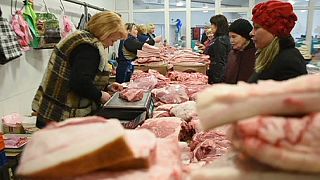 Following Russia's ban on Ukrainian free trade in an escalation of Moscow's squeezing of the barely-functioning economy, the Ukrainian parliament has followed suit in what Russia is calling a "tit for tat" response.
Russia has banned preferential treatment for Ukrainian food in punishment for Kyiv signing a free trade and partnership deal with the EU, which goes into effect on January 1. The Moscow embargo is identical to one already barring EU and US produce from Russia.
Russia has expressed fears Ukrainian importers will get cheaper EU goods which they can then relabel and sell in Russia, undercutting domestic producers and flooding the market.
Ukraine estimates the embargo will cost it some 548 million euros next year, or 0.6 percent of trade turnover.