He's coming to the end of the busiest time of the year.
It's that time again, when Santa Claus, aka Father Christmas, aka Julgubben, aka Joulupukki, harnesses the reindeer and takes off from his headquarters. His aim: to distribute presents to all the girls and boys who have been nice for the past twelve months and to spread Christmas spirit worldwide.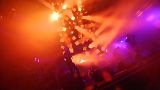 The French city of Lyon's "Nuits Sonores" electronica festival has kicked off for its 15th edition.