Merkel faces call to resign amid migrant crisis criticism
Comments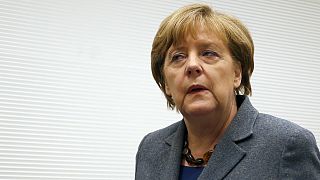 A German right-wing party is calling on Chancellor Angela Merkel to go, amid criticism of her handling of the migrant crisis.
Eurosceptic "Alternative for Germany" – or AfD – has described the government's approach as causing "asylum chaos."
The resignation call came during a party conference.
AfD co-leader Frauke Petry said Merkel is standing up and saying that she doesn't know how many migrants will come to Germany. This is breaking her government mandate, Petry claimed, so she must resign.
It comes as EU leaders set their sights on signing a deal with Turkey in Brussels on Sunday. The agreement would offer Ankara cash and closer ties with Europe in return for help in stemming the flow of migrants.
Aware of a sense of desperation in Europe for a solution to a crisis that is tearing the bloc apart, following the arrival of close to a million people this year, Turkish President Recep Tayyip Erdogan has been driving a hard bargain.
Diplomats have said the 28 states struggled through Saturday to agree a final offer.
Turkish Prime Minister Ahmet Davutoglu is due to meet EU leaders for three hours from 1500 GMT.