Migrants stranded on the FYR Macedonia-Greece border broke into pro-German chants as they continued their protests over passage into western Europe.
They were demonstrating over Balkan countries introducing a policy of filtering migrants based on their country of origin.
The protests saw some begin a hunger strike, while others sewed their lips shut.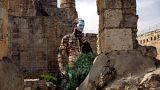 The iconic Tower of David in Jerusalem's Old City is getting a splash of colour.