From Russia with love - a taste of home on the Syrian front
Comments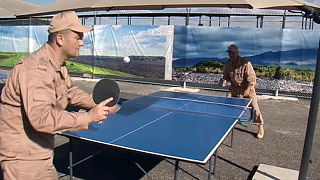 From fighter jets to supersonic bombers, dozens of Russian warplanes are operating from their base near Latakia in Syria.
Moscow has played down claims that it is preparing a ground offensive but the army base can be readied swiftly for a large troop deployment.
For now though, no effort is being spared to make the soldiers and airmen feel as comfortable as possible. Many Russian servicemen have been in Syria since Moscow launched military operation six weeks ago. Russian TV channels and newspapers should help soldiers feel less far away from home.
With no end in sight, keeping morale up is crucial to combat mission creep, according to psychologist Alexei Tischenko.
"The role of the psychologist is highly important, as most of the servicemen here have accumulated certain fatigue, tiredness. They are away from home, from their native land," he says.
And to help with homesickness, all food arrives from Mother Russia. The field kitchen prepares what the soldiers are used to: typical Russian soups, rice or porridge, chicken or beef – the menu here is simple but nutritious and diverse. The bread is freshly baked. On-duty servicemen who can't eat at the cantina receive ready-to-eat rations, all three daily meals in a box. There are seven meal varieties for a week.
This report was produced by our embedded journalist Denis Loctier and was free from Russia and Syrian military control.