Scuffles broke out in Australia as anti-Muslim and anti-racist protesters clashed in the Australian suburb of Melton near Melbourne.
The far-right Reclaim Australia movement organised the protest to demonstrate against Muslim immigration to Australia.
In response, far-left anti-racist group No Room For Racism conducted their own counter rally.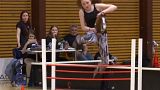 Hobby horse enthusiasts from all over Finland gathered in Vantaa on Saturday for annual championships.