President Francois Hollande said that France's constitution needed to be amended to better deal with crisis situations as he addressed both houses of parliament convened at Versailles.
Parliamentarians gave Hollande a standing ovation before singing the national anthem in a signal of political unity following the worst atrocity in France since the Algerian crisis and the massacre by police of peaceful Algerian protesters in Paris in October 1961.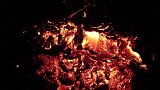 Time-lapse video captured lava oozing from Kilauea Volcano in Hawaii on Friday (19 May).