Bulgarian nationalist leader arrested for hooliganism
Comments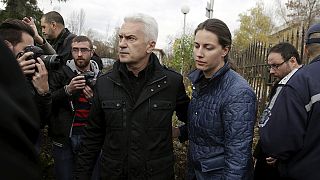 The leader of Bulgaria's nationalist Attack Party has been arrested along with a party colleague after the latest in a series of highly publicised scuffles.
Volen Siderov faces charges of hooliganism and could face up to three years in jail if found guilty. Bulgarian MPs voted last week to strip Siderov of his parliamentary immunity from prosecution after a fracas with students and police in October.
In that particular incident, Siderov and other Attack members entered the National Academy for Theatre and Film Arts in Sofia and angrily remonstrated with students inside. Siderov, 59, had to be forcibly removed from the building by police and appeared to be punched in the face by a plain-clothes policeman in the ensuing fracas (see video below).
The Bulgarian prosecutor's office said he had behaved with an "extraordinary degree of cynicism."
Attack has 11 of the 240 seats in the Bulgarian parliament after winning 4.5% of the vote in last year's elections. The party is seen as anti-EU and anti-NATO and was the only political party to voice support for Russia's annexation of Crimea.
In another ongoing case, Siderov was charged with hooliganism after an alleged fight in an airport runway bus last year in which he denies injuring a male passenger and a policeman.
Further hooliganism charges were also brought against Siderov and Desislav Chukolov, the two newly-arrested Attack MPs, for their role in a brawl outside a shop in Sofia last month.
Siderov's lawyer says he will appeal against what he calls "unconstitutional" criminal charges. His client can be held for 72 hours before a decision is made on extending his detention.