Syria peace talks: Paris attacks put pressure on leaders to find solution
Comments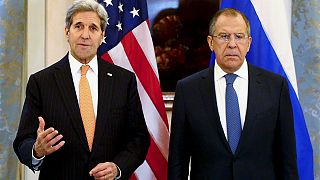 Just hours after the deadly attacks in Paris, foreign leaders from 19 countries, including the US, Russia, Iran and Turkey, have gathered in Vienna to discuss the Syrian peace process.
The carnage in the French capital forced a shift in focus during the fresh round of negotiations with all sides agreeing that they must stand together against terrorism.
"The message that comes from our meeting today is even stronger than it was two weeks ago, the need for the international community to unite, because all the countries here and all the international community is equally affected by the threat of terrorism and the only possible and effective response is dealing with that united," said Federica Mogherini, High Representative of the Union for Foreign Affairs and Security Policy.
Both the Russian Foreign Minister Sergei Lavrov and the US Secretary of State John Kerry condemned the Paris terror attacks and expressed their solidarity with the French people.
"We are witnessing a kind of medieval and modern fascism at the same time, which has no regard for life, which seeks to destroy and create chaos and disorder and fear," explained US Secretary of State, John Kerry. "And the one thing we can say to those people is that what they do in this is stiffen our resolve, all of us, to fight back and to hold people accountable and to stand up for rule of law, which is exactly what we are here to do".
The Russian Foreign Minister, Sergei Lavrov, sent an qually strong message:
"We have to strongly reiterate that there would be no tolerance of terrorists. And just like there is no justification for terrorist attacks, which is the position of the Security Council, I believe as John said, there could be no justification for us not doing much more to defeat ISIL, al Nusra, and the like."
More than 250,000 people have been killed in the Syrian War and millions have been uprooted from their homes. Syrians demanding a solution made their voices heard as the leaders arrived for the talks.
Euronews' correspondent in Vienna, Andrea Hajagos, explained that those protesting against the war in Syria "also stand with the people of France and have put more pressure for an agreement to be reached to end the conflict."