Serbian basketball player returns following amputation
Comments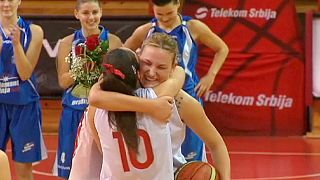 Natasa Kovacevic is a 21-year-old professional basketball player from the Serbian capital, Belgrade.
But Natasa's talent on the court is even more impressive considering her lower left leg was amputated two years ago following a horrific bus accident.
This week she became the first disabled European player to play in a professional team, Red Star Belgrade.
"I'm overjoyed that I'm back on the court and that I came back with Red Star," explained Kovacevic. "I'm back home again. It's a very special feeling and I won't forget this. I have to thank my team, congratulate everybody for our victory and thank all the people who came today to support Red Star."
The Serbian was one of the country's brightest prospects when she managed to escape alive from the mangled wreckage of her previous team's bus.
It was not long into her recovery process that Kovacevic focused on making her return to the court despite the challenges that lay ahead.