EU and African heads meet in Malta to discuss migrant crisis
Comments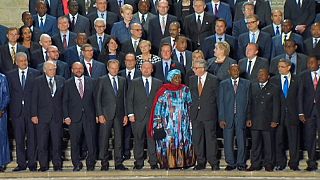 EU and African leaders are meeting in Malta to discuss the migrant crisis.
Europe is expected to donate billions of euros in exchange for assistance to stem the human tide.

EU and African leaders meet today in Malta, hoping aid will stop the flow of migrants https://t.co/aiV8VQseWmpic.twitter.com/F3NF5AmgKN

— Channel 4 News (@Channel4News) November 11, 2015
The plan is to ease the security and economic pressure that forces people to seek sanctuary in richer nations.
EU Commission President Jean-Claude Junker says Europe:
"won't be blackmailed, but we need the help of others, as others need our help."
Close to 150,000 Africans, mainly from Eritrea, Somalia and Nigeria, have made the perilous journey across the Mediterranean this year to arrive in Malta and Italy.

Από #protothemagr EU and Africa leaders meet in Malta to tackle migration… https://t.co/xPnxOVHJbu#Retweetnews24hpic.twitter.com/V3CbuTEmEH

— Retweet News 24h (@RetweetNews24h) November 11, 2015
Add to that the 650,000 flowing into Europe from Syria.
James Franey our correspondent in Valletta says:"The pressure is on for Europe to come up with something concrete over the next two days, especially since another flagship policy, a deal to relocate thousands of migrants, appears to have been such an epic failure. So far 130 have been moved from Greece and Italy."
The European Commission says it will donate €1.8bn with EU states adding to the total.