Portugal leftist parties clinch historic deal, aim to topple government
Comments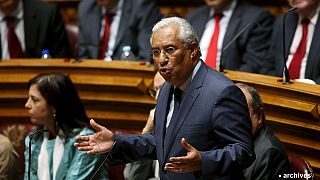 An unprecedented alliance between Portugal's centre-left and its radical left looks set to topple the centre-right minority government just weeks after parliamentary elections.
The Socialist Party came second to the Portugal Ahead centre-right coalition in the election.
Bringing the Socialist Party together with the Left Bloc Party and the Communist Party creates a bloc with a clear parliamentary majority.
Both the Left Bloc and the Communist Party are stridently eurosceptic.
Portugal's president Anibal Cavaco Silva had vowed not to appoint a leftist coalition government, saying that the anti-austerity and anti-EU policies they could introduce would be dangerous for the economy.
Pedro Passos Coelho of the centre-right coalition was appointed prime minister for a second term.
But with the leftist parties thrashing out a deal to unite, he may not hold that position for much longer.