Synod reaches uneasy compromise as Pope takes on conservatives
Comments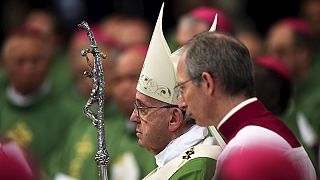 The Pope appears to have reached some form of agreement with the conservative clergy at an often tetchy synod on the family.
The synod voted to allow divorced or remarried individuals to to play a full role in the church, but only just.
Speaking against exclusion the pope said:" Jesus wants to include those marginalised by society. Jesus wants to brings these people in."
Compromise appears to be the order of the day, but the pope seems determined not to "bury his head in the sand."

Pope blasts bishops who "stick their heads in the sand" and hurl stones at sinners https://t.co/XtXajGLwcXpic.twitter.com/AfvJat6kiy

— CNN Religion (@CNNbelief) October 25, 2015
Despite a softening of some of the church's attitudes there is no change in the status of the gay community.
Conservatives prevail on gay issues at Vatican synod https://t.co/0Z6kTzXIZFpic.twitter.com/a0pCoMKP5y

— GMA News (@gmanews) October 24, 2015