Zara's Ortega rivals Bill Gates for Forbes top spot
Comments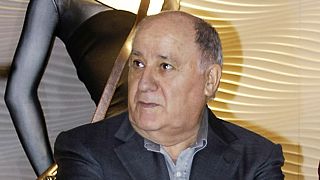 He briefly overtook Bill Gates to become the richest man in the world, according to Forbes.
Amancio Ortega, the Spanish clothes billionaire who founded the retailer Zara, was said to be worth $79.8 billion (71.8 billion euros).
However Forbes' real-time tracker which takes account of daily adjustments had put the Microsoft boss back on top on Friday.
The 79-year-old has quietly climbed the rankings as the company he started 40 years ago continues to perform well and expand.
After growing in Spain, Zara's success spread to Portugal, France, London and is now worldwide.
Yet Ortega himself, who was born during the Spanish civil war, began life poor. His father is said to have earned 300 pesetas a month.
According to Forbes, a surge in shares this week in Zara's parent company Inditex helped his wealth grow by $4 billion (3.6 billion euros) in 24 hours.