[As it happened] Polish elections: Eurosceptics claim victory
Comments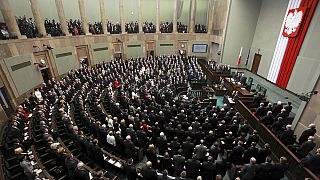 Poland's eurosceptic opposition claimed victory on Sunday (October 25) in a watershed election that risks putting the country at odds with its European Union partners.
An Ipsos exit poll showed the right-wing Law and Justice (PiS) party far ahead with 38 percent of the vote, easily beating the ruling centrist Civic Platform (23.4 percent). If confirmed, the results would give Law and Justice an absolute majority of 238 seats in the 460-member lower house of parliament, enough to govern alone.
Law and Justice opposes joining the euro zone as well as taking in refugees, pledges more welfare spending on the country's own poor and wants banks subject to new taxation. Its lead candidate, 52-year-old Beata Szydło, is likely to be appointed prime minister.