An Israeli armed vehicle burst into flames and at least one Palestinian was injured during clashes in the West Bank city of Bethlehem on Wednesday.
Palestinians threw rocks at Israeli forces who responded by firing tear gas canisters.
The unrest comes after a 27-year-old Palestinian man was shot dead in a protest in Bethlehem on Tuesday.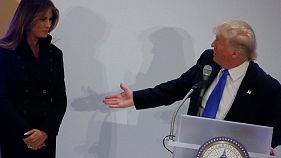 Trump called his wife to speak at the luncheon honouring his supporters on the eve of his swearing in as the 45th U.