Euronews moves to new headquarters
Comments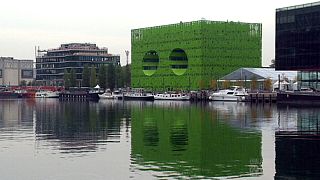 Euronews is now broadcasting from its new purpose-built headquarters, having moved its entire newsroom as well as technical and administrative teams.
The move has been five years in the making and will provide its audiences with improvements such as full HD and improved sound quality thanks to state-of-the-art equipment and enhanced acoustics.
The new headquarters – a green, six-storey cuboid building designed by Paris-based architects Jakob+MacFarlane – houses 10,000 square metres of office space, more than double the working room afforded by the previous headquarters just a few kilometres away.
Construction began in late 2011 while the transfer of staff has been completed in stages over one month. Team by team, department by department, since September this year Euronews employees have been making themselves familiar with their new surroundings and getting ready for the big moment when broadcasting was switched from the old building to the new HQ.
The new site is located in the Confluence area of France's second town, Lyon. What was a run-down, derelict area has been developed over the last decade into a dynamic business and commercial hub. Visitors arriving in Lyon by motorway from the south will not fail to miss the unique fluo-green cube, which lies opposite Lyon's newly-inaugurated Confluence Museum.