Clashes erupted across the West Bank on Tuesday (October 13) after a string of attacks in Jerusalem and near Tel Aviv on a "Day of Rage" declared by Palestinian groups.
In the West Bank city of Bethlehem, masked Palestinian youth, waving Palestinian flags, burnt tyres and hurled stones at Israeli forces who responded with tear gas and rubber bullets.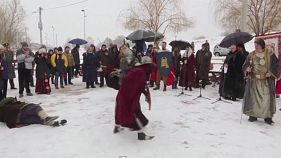 Sub zero temperatures in Serbia did not deter history and heritage fans.