The River Seine hosted its own version of Noah's Ark on Saturday (September 19), with 140 coloured statues of animals arriving on two boats down the Parisian waterway.
Part of a project named "Climate Noah's Ark", the display came to a halt in front of the Eiffel Tower. The French capital will host a major UN climate summit between November 30 and December 11.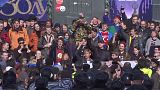 Thousands of people crowded into Moscow's Pushkin Square on Sunday for an unsanctioned protest against the Russian government.