These were the scenes on the Hungary-Serbia border after police allegedly fired tear gas and water cannon to disperse protesting refugees.
Thousands of migrants and refugees have crossed into Hungary from Serbia in recent weeks.
But since Monday they have been left stranded in Serbia after Hungary completed a razor-wire security fence, blocking access into the country.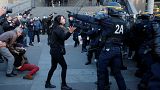 Tensions were running high on Paris' Bastille Square on Sunday night (April 23), at the end of a protest called by left wing militants.