Turkey: Soldiers hurt by roadside bomb as conflict with PKK escalates
Comments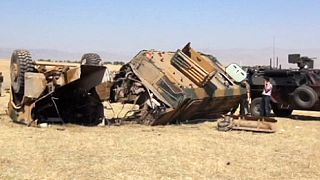 A roadside bomb has injured at least a dozen soldiers in eastern Turkey.
The country has seen daily violence since July when a ceasefire with the outlawed Kurdistan Workers Party or PKK broke down.
More than 100 police and soldiers have been killed since then, along with hundreds of Kurdish militants.
The roadside blast occurred in the largely Kurdish eastern province of Mus.
Attacks by the PKK have triggered anti-terrorism protests and nationalist anger against Kurds and the main pro-Kurdish opposition party ahead of November's parliamentary election.
Turkey has been waging what it calls a 'synchronized fight against terror'. At home and over its borders, the government says it is targeting Kurdish militants and the group calling itself Islamic State