Record-breaking Russian cosmonaut returns to Earth
Comments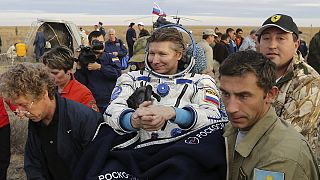 A record-breaking Russian cosmonaut has come back down to earth in a Soyuz capsule.
Gennady Padalka returned from the International Space Station, completing five missions and notching up a total of 879 days in orbit.
The previous record of 803 days was held by Sergei Krikalev.
Joining Padalka for the ride back to Kazakhstan were two rookies, Kazakh cosmonaut Aidyn Aimbetov and Danish astronaut Andreas Mogensen, both of whom spent less than 10 days in orbit.