Ugly scenes at Hungary's Serbian border as migrants clash with police
Comments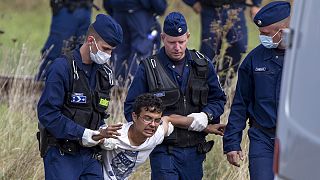 Hundreds of desperate migrants have forced their way through police lines at a holding camp near Roszke in Hungary, close to the border with Serbia.
The situation is growing uglier by the hour.
A #migrant is stopped by Hungarian police officers as he tries to escape on a field, #Roszke REUTERS/@markodjuricapic.twitter.com/b7el2PzjTt

— Reuters Paris Pix (@ReutersParisPix) September 8, 2015
The migrants mainly from Syria, Iraq and Afghanistan do not want to be held and fingerprinted at holding camps, they want to head to Budapest and out of the country.
The UNHCR is in the center of the chaos.
Caroline van Buren is from the refugee organisation:"In the coming days UNHCR will set up a transit centre here, we will put up tents, will provide blankets, we will provide food, water. We are also working with the authorities so that the time people spend at the collection point as you call it will be shorter."
As those held tried to flee the holding area police chased them down.
The images of #Roszke camp taken by @MussaKilam still send shivers down my spine. @MilenaBuyum@szaletlipic.twitter.com/bJ6zEseaN6

— Barbora Cernusakova (@BCernusakova) September 8, 2015
Migrants want access to a transit camp where they can register as refugees and carry on with their journey.
"I don't want to stay here. Let us to the camp on foot or let us travel free to West by bus or taxi."
The UNHCR has urged the Hungarian government to improve conditions for the thousands entering the country.
In response the Hungarian government continues to erect a fence along its border with Serbia while refusing to accept an EU call for a quota system to distribute refugees.