Hungarian camerawoman fired after being filmed kicking migrants
Comments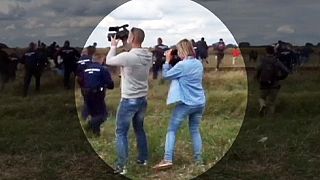 A camera woman in Hungary has been fired after being caught on video kicking and tripping up migrants at a makeshift reception point near the border with Serbia.
In videos posted online by a German journalist, the camerawoman can be seen apparently attacking migrants, including children, who are fleeing from the police.
What a shame! Camerawoman for #Hungary N1TV trips refugees as they run from police. She was later fired. @akhbarpic.twitter.com/v7fBDz3PKV

— Jenan Moussa (@jenanmoussa) September 8, 2015
The woman, seen wearing a blue shirt in the clips, has been widely identified in local media as Petra Laszlo.
She was dismissed from N1TV for "behaving unacceptably" the company, said in a statement. The Internet channel focusses much of its content on the far-right, anti-immigration Jobbik Party.
Authorities have been trying to round up and register the thousands of migrants entering Hungary, but many refuse, fearing they will then be forced to remain in the country.