Will ex-President Rajapaksa return to power in Sri Lanka general election?
Comments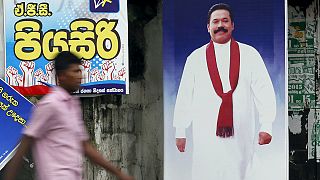 Voting is underway in Sri Lanka's general election which is being widely seen as a test of
a comeback bid by former President Mahinda Rajapaksa.
After losing his job in a snap poll last January, Rajapksa is hoping to return to office as prime minister.
Although not favourite to win , the 69 -year-old war hero who crushed a 26-year long Tamil uprising in 2009 might just slip back into power.
He could do that together with his at his Sri Lanka Freedom Party (SLFP) if his rival fails to win a majority.
However pundits say the incumbent Prime Minister Ranil Wickremesinghe and his United National Party (UNP) have the best chance of forming the largest bloc in the 225-seat parliament.
Fifteen million people have the right to vote after what observers say has been an unusually clean campaign.